Introduction
Edit

The Waiting Room can be accessed by tapping this button on the top right corner of any panels in Prince Management. It is unlocked after you have obtained 100 spaces in your main inventory. The first purchase of a waiting room is 5 gems, followed by 10 gems for every other subsequent room.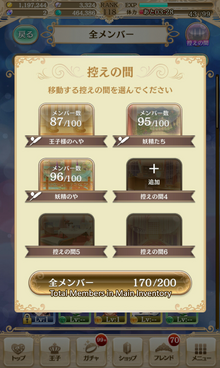 There are a total of 10 waiting rooms you can purchase. Each room costs 10 gems to purchase and has 150 slots. Rooms can be renamed once purchased.
These rooms can be used to store princes, fairies, trainers and gold clan members. Except for fairies, you will not be able to use these items for any purpose once you have placed them in waiting rooms. To use them again, move the selected items back into your inventory.
Movement
Edit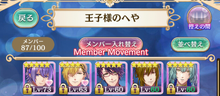 To move items between your inventory and room. you will need to tap on a waiting room to open it. Once you have done so, tap on the top button to start moving your members.
Tap on the icons to select the members to move either into the Main Inventory or vice versa. Tap the "Move Selection" button to move your members to the new room.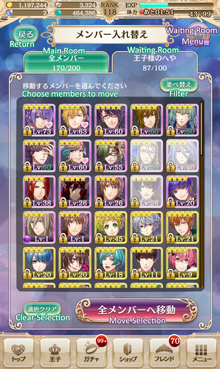 Frequently Asked Questions
Edit
Question : Why am I not able to move any of my members into the Waiting Room?
Answer : Check if your Waiting Room is already full at 100/100. This could be the reason why you will not be able to move any more members.
Question : Is it possible to purchase Waiting Rooms with other resources like gold? I have no gems...
Answer : At the moment, the only way to purchase more Waiting Rooms is using gems.
Community content is available under
CC-BY-SA
unless otherwise noted.